​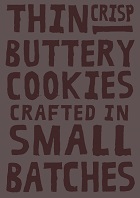 Normally, Evie plays it safe. But she's decidedly daring with these scrumptious cookies. She sneaks each thin and crisp creation like a secret agent on a mission.
Admittedly, the sneaking is unnecessary since these cookies have no artificial colours, flavours or preservatives. The important thing is - Evie knows there's more than a middle lane.
She's got edges to explore and they are spectacular.